Contact Us
Iberostar Cancún Hotel - 5-Star All Inclusive - Cancun, Mexico
Vacation Store Miami offers All Inclusive Vacations at unbelievable discounts on an extensive selection of resorts in the Caribbean. Let our professional staff help you find your perfect family vacation, weekend getaway, spring break vacation or that special honeymoon.
Why choose Vacation Store Miami?
Guaranteed best prices on Caribbean Vacations.
Over 15 years of experience.
Did we mention BEST PRICES?
Satisfying our Guests is our principal aim. Therefore we would like to facilitate the reservations process with our telephone reservations service. If you need help, contact us by phone or EMAIL US.
Call Us Nationally at 1(888) 774-0040 or at (305) 774-0040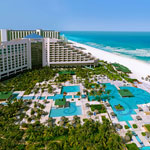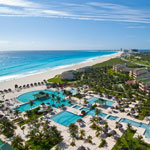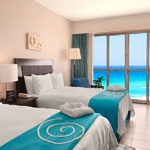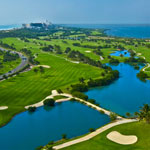 Location
The IBEROSTAR Cancún Hotel is located in Cancún, Mexico's Hotel District, an area of unrivaled beauty renowned for having the best white sand beaches and turquoise crystal clear waters in the Caribbean. Conveniently situated just 15 minutes from the Cancún International Airport, our 5-star luxury hotel is easily accessible to major tourist attractions in the region such as archaeological sites, shops, restaurants, and entertainment spots.
Entertainment
The IBEROSTAR Cancún Hotel offers an exciting leisure and entertainment program designed for the entire family. Children will stay busy and having fun all day long with activities in special areas designated just for them. When night falls, adults can kick back in the hotel's bars or watch live shows performed in the Telón Theater.
Live Shows
Shows, dancing, comedy, and endless music. These are just a few of the entertainment options guests will come across every night at the IBEROSTAR Cancún Telón Theater. No matter what you choose, our top Cancún hotel offers the best entertainment offerings for rounding out a day during your marvelous stay at our resort.
Caribbean Relaxation
If pampering is how you wish to spend your days, we recommend a massage from SPA Sensations, where the best revitalizing treatments are offered, or bask in the sun along the pristine Yucatán beaches just outside the hotel.
Just for Kids
Children will have a blast at the spectacular waterpark as well as the many daily activities organized by the hotel's professional staff.
Sports
Golf is one of the most requested sports at the IBEROSTAR Cancún Hotel, which is no wonder, as the resort is just steps from an impressive 18-hole course...yet another one of the many high-end services IBEROSTAR strives to provide its guests. The hotel also features seven spectacular swimming pools, plus a lap pool, a professional soccer field, and two tennis courts where guests can stay in shape and have a good time during their Mexican vacation.
Golf
One of a kind, the IBEROSTAR Cancún is the only resort in Cancún's hotel district with a professional Par 72, 18-hole golf course. Golf enthusiasts will love the 260 yards of course, pro-shop, and clubhouse, as well as the numerous perks and discounts.
On-Site Sports
Guests of the IBEROSTAR Cancún Hotel can enjoy any number of sports and leisure activities including: table tennis, tennis, basketball, soccer, water polo, beach volleyball, yoga, archery, and target shooting. Additionally, the hotel is equipped with a complimentary fitness center.
All Inclusive Details
What is included at the All Inclusive IBEROSTAR Cancún Hotel?
Breakfast, lunch, and dinner.
National and international beverages in the hotel's bars.
Entertainment program.
Sports: target shooting, basketball, beach volleyball, dance lessons, darts, soccer, water aerobics, ping pong, tennis, water polo, and access to hotel fitness center.
All Inclusive does not include: use of convention center meeting rooms, golf course, wedding planning, spa and beauty salon, childcare service, laundry service, internet (available 24/7), and medical service (available 12/7).
Weddings & Conventions
The IBEROSTAR Cancún Hotel offers an impeccable convention center with nearly 47,318 sq. ft. of versatile meeting and event space, divided into 22 meeting rooms. There is also over 106,000 sq. ft. of usable outdoor garden, pool, and beach area for beautiful events and social functions. For romantic seafront weddings, the hotel also offers a gazebo for couples to use. The IBEROSTAR Cancún convention center can accommodate up to 2,500 people and provides banquet service, internet connectivity, and a 24-hour business center.